How to Make Money on TikTok and How to Get Paid Fast (2023)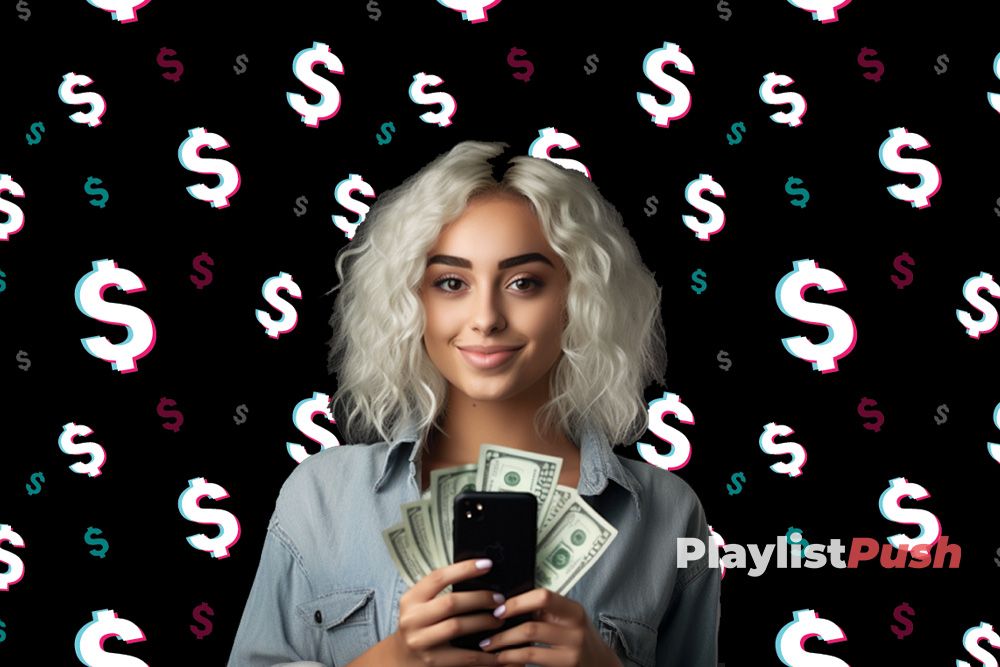 Did you know that TikTok can be a lucrative source of income? While top TikTok creators like Charlie D'melio make over 20 million dollars per year, TikTokers of all sizes can earn from $500 - $100,000+ per month posting videos.
In this blog post, we will explore various strategies and opportunities to help you monetize your presence on TikTok and turn your passion into profit.
---
The Best Ways to Make Money on TikTok:


1) Get Paid to Use Sounds & Promote Music

What are paid TikTok sounds? This is where an artist/musician pays for creators to post TikTok videos using a clip of their song. As the creator, you get paid to promote the artist's music in your videos.
Paid sounds are one of the best ways to monetize your TikTok account while sharing great music with your followers.
With Playlist Push paid TikTok sounds, you can get paid up to $250 per video to use sounds from independent and major-label artists.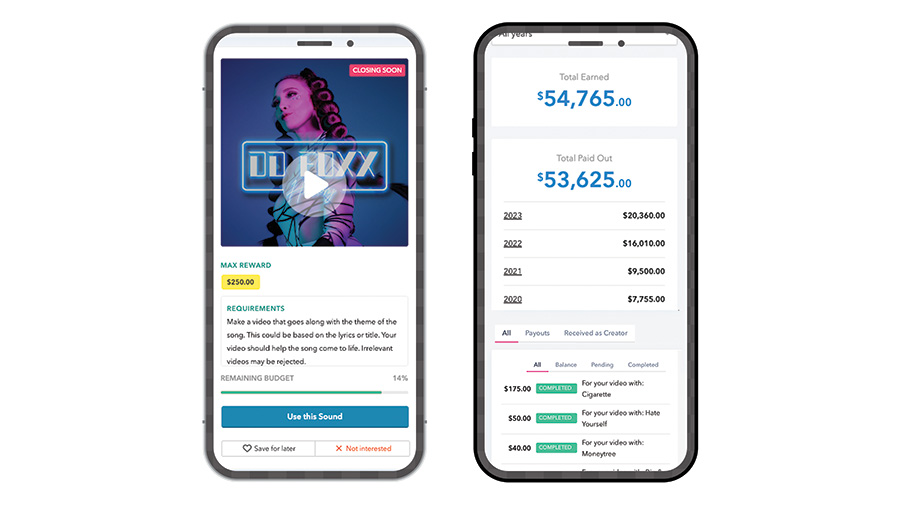 Playlist Push Paid Sounds Overview:
Earn up to $250 per video
Pick only the songs you like
No limit to how much you can make
The easiest way to monetize your TikTok account
Discover awesome new music
Get paid instantly with Venmo
Once you've been accepted, just log in and check out the available sounds. Make a video for any of the songs you like. Submit a link to your video and you'll receive your payment.
Sign up to get paid to use TikTok sounds
---
2) Join TikTok Creator Next

What is TikTok Creator Next? This is TikTok's portal to several tools they offer to influencers and creators including to monetize your channel:
TikTok Creator Fund
TikTok Creator Marketplace
Live Gifts
Video Gifts and Tips
Tips
Creator Next Requirements:
18 years of age or older
Meet minimum follower requirements (varies by region)
At least 1,000 video views in the last 30 days
At least three posts in the last 30 days
Account must be in good standing with Community Guidelines
Based in the US, UK, Germany, France, Italy, or Spain (Canada and Australia Coming soon)

From the Creator Next portal, you can explore each of the tools and learn more ways TikTok can pay you directly.
---
3) Apply for the TikTok Creator Fund

What is the TikTok Creator Fund? This is TikTok's own fund for paying creators for making videos. You get paid based on the number of views and engagement that your videos generate.
To estimate how much you can make, check out our TikTok Earnings Calculator for the Creator Fund.
Creator Fund Requirements:
Based in the US, UK, France, Germany, Spain, or Italy.
18+ years old
10,000+ followers
100,000+ video views in the last 30 days
Account fits with TikTok Community Guidelines and terms of service

---
4) TikTok Creator Marketplace:

What is the TikTok Creator Marketplace? This is TikTok's platform that allows brands to find creators and ask them to promote their products.
If you meet the eligibility requirements, TikTok will invite you to apply to join the Marketplace.
Creator Marketplace Requirements:
TikTok Creator Marketplace Details
---
5) Leverage TikTok Live Gifts

LIVE Gifts allows your viewers to send you gifts in the form of "diamonds" when you go live. You can then convert those gifts into real money.
Live Gifts Requirements:
If you are 18 years or older, you're eligible to receive gifts on your live videos
---
6) Receive TikTok Video Gifts

What are TikTok video gifts? These are just like LIVE gifts, however, they can be received in the comments on your regular videos.
Video Gifts Requirements:
18 years of age or older
At least 100,000 followers
Account is over 30 days old
Posted a public video in the last 30 days and no repeated violations of Community Guidelines.

---
7) Receive TikTok Tips

What are TikTok Tips? This feature allows your followers to go to your profile and send you a tip of up to $100 to show their support.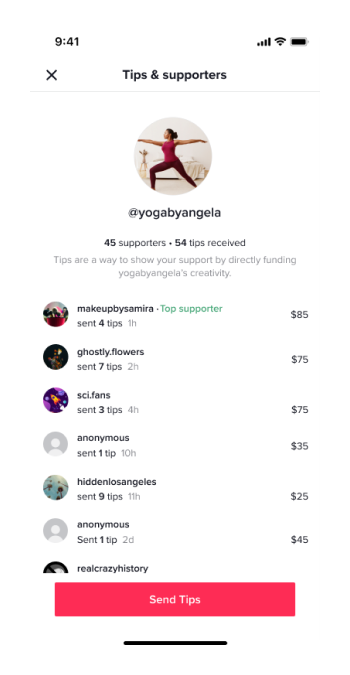 TikTok Tips Requirements:
18 years of age or older
At least 100,000 followers
Based in the US
---
8) Seek Brand Partnerships and Sponsorships:

In addition to using the TikTok Marketplace, you can also pursue brand partnerships and sponsorships directly.
Best ways to connect with brands:
Contact brands directly
Contact influencer agencies
Join Influencer Marketplace websites
Hire a manager or management company
---
9) Sell Merchandise or Products

There are many ways you can make money by selling products on TikTok.
Affiliates - sign up for affiliate programs for products and services that align with your content and your followers. You can also sign up to be an Amazon affiliate. Then simply add your affiliate links to the links in your bio.
Sell your own products. You could sell a physical product, a digital download, or an online course.
---
How do you grow your TikTok Account?

To start making money on TikTok, you need to build a solid following.
View How to Get More TikTok Views for a detailed explanation of how the algorithm works.
Focus on creating quality content that resonates with your target audience. Find a niche or theme that sets you apart and consistently deliver engaging videos. Collaborate with other creators, participate in challenges, and use popular hashtags to increase your visibility.
Engage with your followers by responding to comments and direct messages. The larger and more engaged your following, the more opportunities will come your way.
---
Do you have to be verified to make money on TikTok?

No. You do not have to be verified to make money on TikTok. Verification is not a requirement for any of TikTok's monetization tools listed in this post. Additionally, you do not need to be verified to use paid sounds with Playlist Push or work with brands directly.
---
Looking to Get Paid for TikTok Videos?
Join our TikTok Creator Program to get paid to use sounds