How to Get Your Song Trending on TikTok's #NewMusic Hub: The Secret to Blowing Up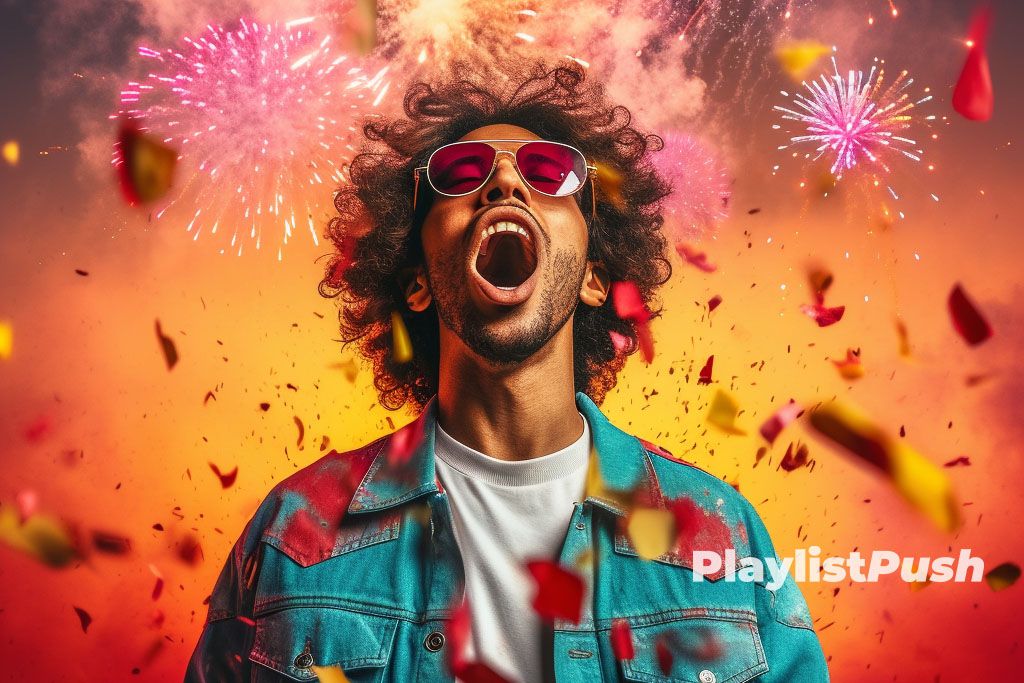 TikTok's #NewMusic feature recently launched as the official hub for music discovery on the platform. This is huge for independent artists as TikTok has become the most influential tool in the industry for promoting your music.

Since going live, The #NewMusic hub has amassed over 25 Billion Views. And this is not just from big pop stars. Anyone can get featured on the #NewMusic page, making this one of the most important marketing features on TikTok for you to embrace.
In this post, I'll explain what the #NewMusic hub is, why it's so powerful, and how to use it to promote your music.
---

What is the TikTok #NewMusic Hub?

TikTok's #NewMusic hub is a feature on the app that allows users to discover and explore the latest music releases. It serves as the primary place within TikTok where users can find trending songs, new releases, and discover upcoming musicians.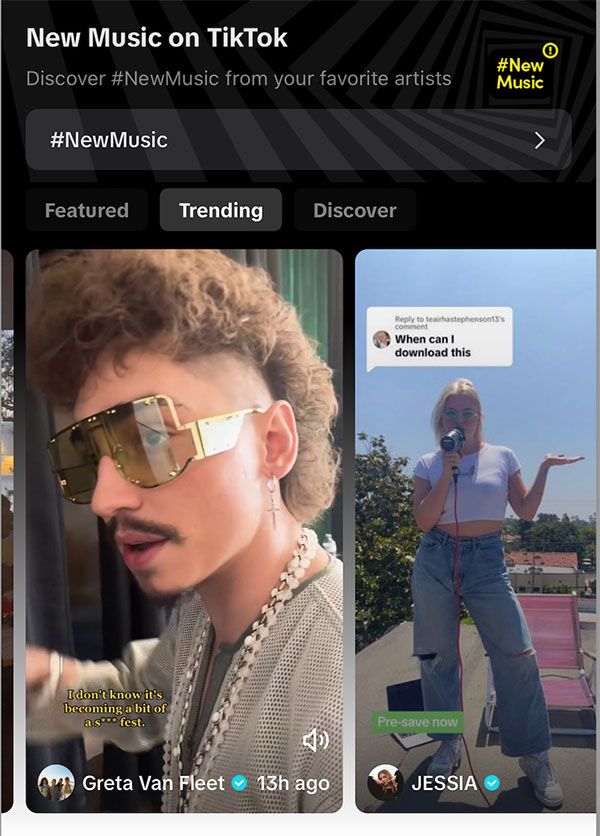 In the words of TikTok, the #NewMusic hub is:
A dedicated space for artists around the world to showcase their new songs and for fans to discover their next favorite track.
The #NewMusic hub will act as a destination for new music, highlighting new releases and making it easier for fans to discover the latest tracks from both new and established artists. (TikTok.com)
In the #NewMusic hub, users can browse through a curated selection of videos and sounds. The hub highlights popular songs and emerging artists, allowing users to stay up to date with the latest music trends and jump on related challenges.

---
How to Access the #New Music Discovery Hub?

1) Open TikTok and Tap on the Search Icon
2) Search "New Music", "newmusic" or #newmusic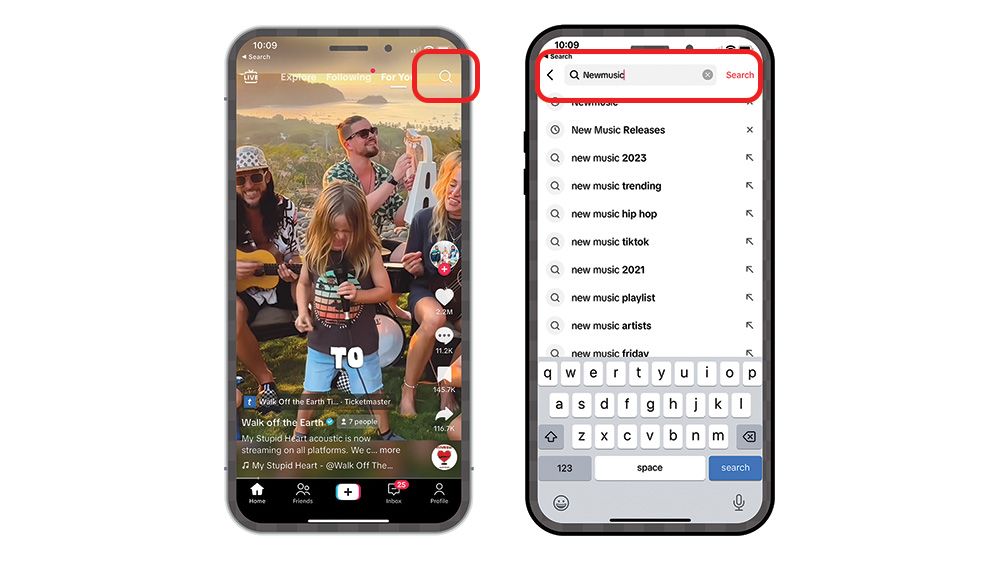 3) Explore the Featured, Trending, and Discover Tabs
4) Explore the #NewMusic hashtag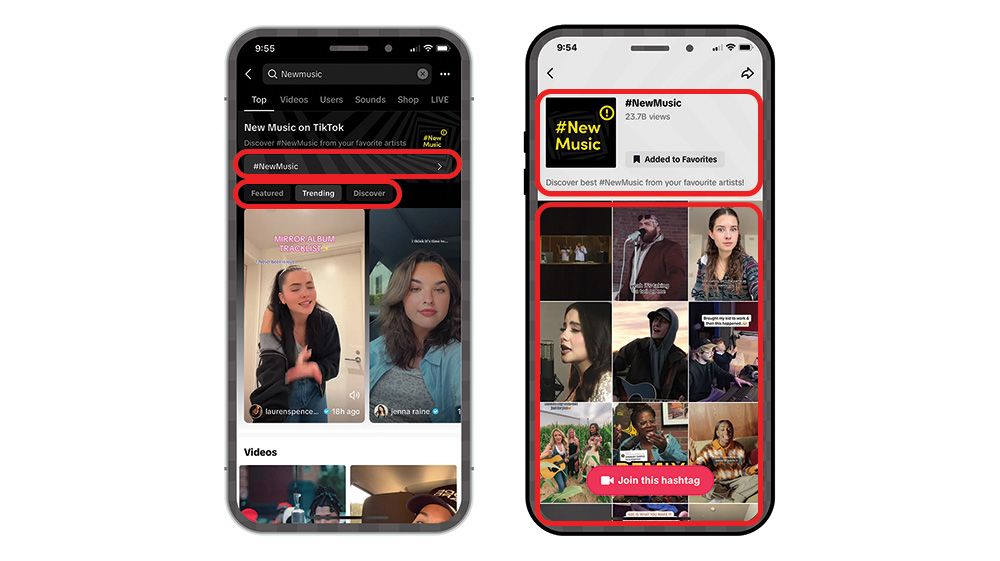 ---

Why is the #NewMusic hub so powerful for music promo?

Promoting the #NewMusic hub is a major priority for TikTok, which means they support and push it to users.

TikTok wants to be known as the place where independent artists can blow up, and where music lovers find their new favorite artist.

The #NewMusic hub allows fans to discover the best new music, often before it's heard elsewhere, while providing a platform for emerging and established artists to grow their fanbases and connect with their audience." (TikTok.com)
TikTok's focus on growing its influence on the global music culture is no secret. They are pouring resources and money into this area and it's clearly working.
The New Music hub reaching 25 Billion views is the latest evidence.

Do TikTok videos lead to Spotify Streams? Learn about the TikTok to Spotify Pipeline.

---
How to Get Your Music Trending on the TikTok New Music Hub?

The answer to this question is very simple. You must get as many videos made as possible using your sound with the hashtag #newmusic, and generate as many views as possible on these videos.
So how do you get videos made using the #NewMusic hashtag with your TikTok Sound?
1) Post your own videos using #NewMusic in the description

Upload your own videos to TikTok using the sound you want to promote. For tips on what content to post check out this article. "5 Steps to Creating The Best TikTok Account for Artists & Musicians".

Also, to learn how to get the most views with your videos check out "How to Get More TikTok Views | Tips on the Algorithm"

2) Ask Your fans to use the #NewMusic Hashtag

Educate your fans. You can tell them in your posts across TikTok, IG, and other platforms to always use #NewMusic when using your sounds. You can also put this recommendation in your TikTok bio.
Every time you launch a new song, post a TikTok video telling your fans to use it with some basic instructions. For example: "Show me your videos vibing out to my new song, and make sure to use hashtag #newmusic"

3) Ask Creators to use the #NewMusic Hashtag

Working with TikTok creators who have large followings is the best way to spread your music across the app quickly. Many of the largest music acts pay TikTokers to use their music in their videos.

You can reach out to TikTok influencers directly or set up a Playlist Push TikTok promotion campaign to submit your music to hundreds of TikTok creators with just a few clicks.
Either way, the key is to ask the creators to use the hashtag #newmusic when they post each video.

When you run a Playlist Push TikTok campaign, getting on the #newmusic page is easy. Just apply for your campaign. Then add the #NewMusic hashtag on your campaign setup page (see image below).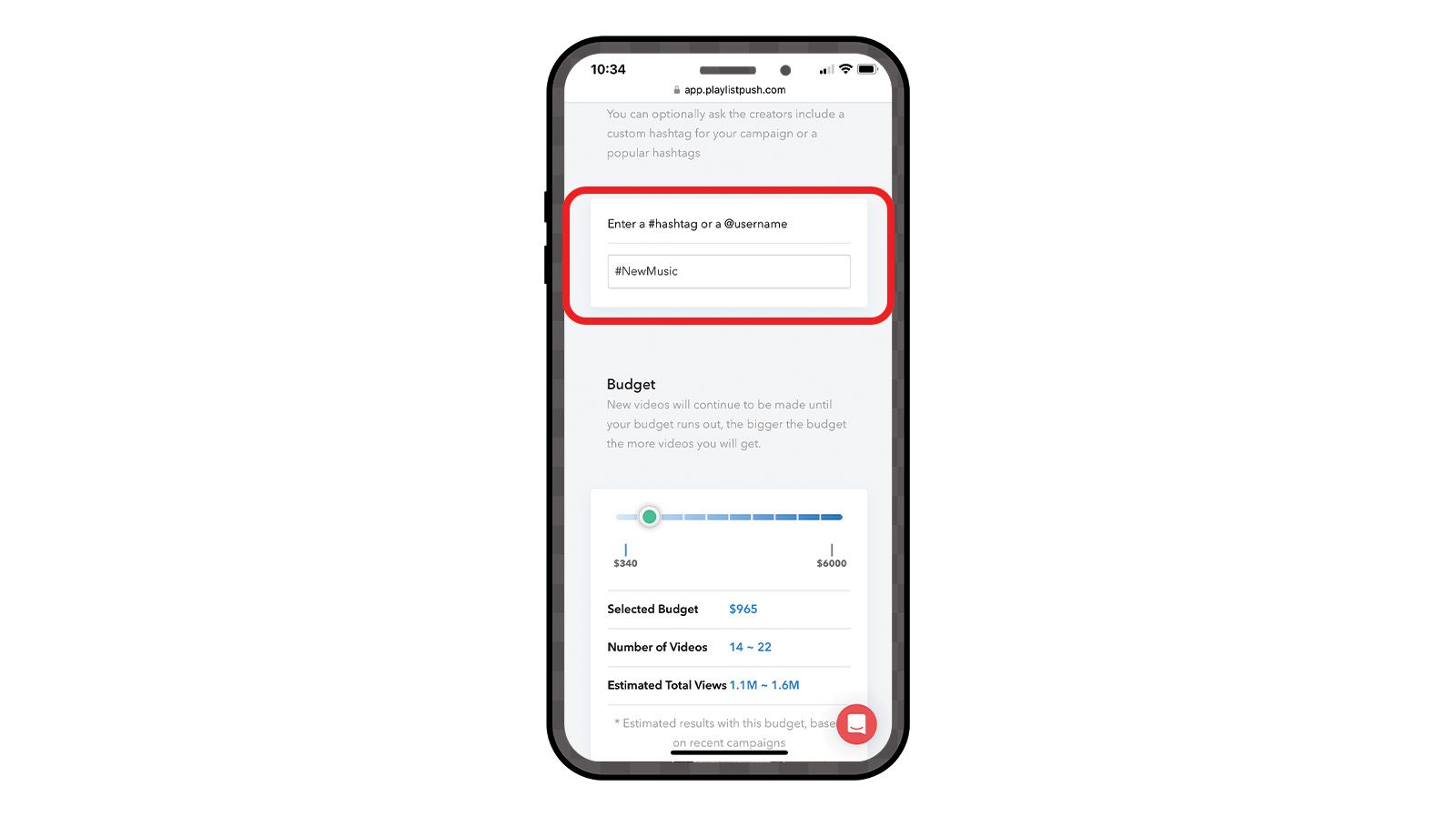 This means that all of the creators on your campaign will be required to include this hashtag on the videos they make using your sound.
That's it! We look forward to seeing your music blow up on the #NewMusic hub.
---
Looking to Promote Your Music?
Use our TikTok Music Promotion or Spotify Playlist Promotion service.