How TikTok videos launch music careers on Spotify: 5 Steps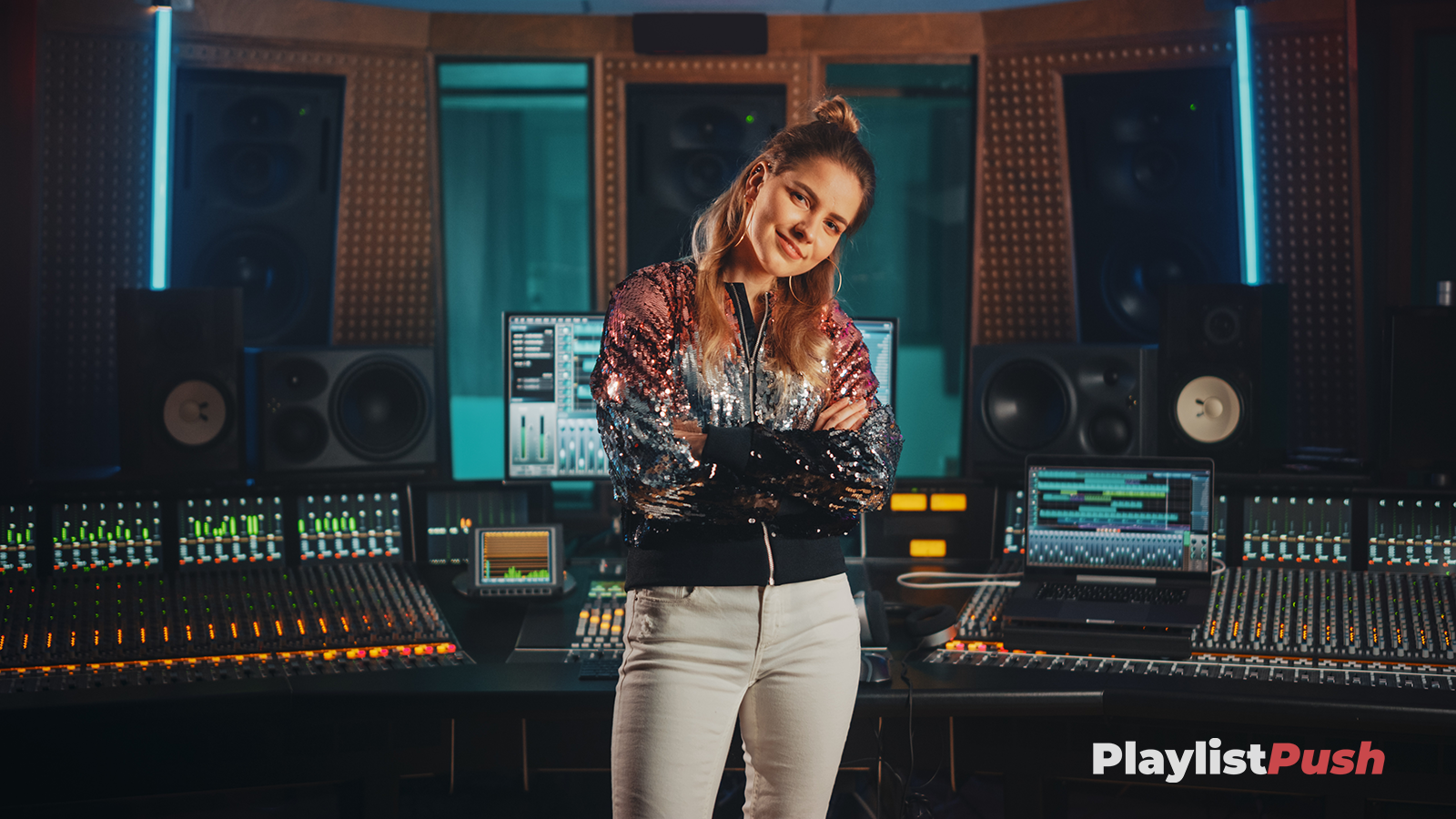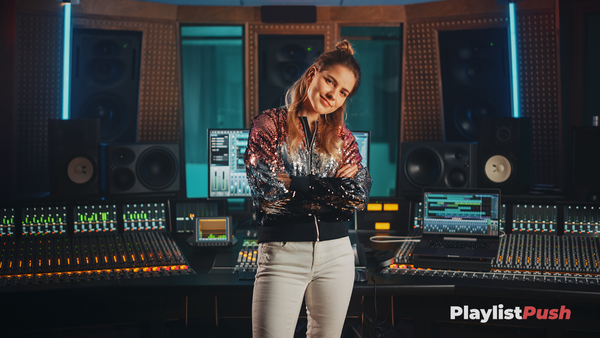 Vox recently conducted a "data investigation into how TikTok is shaping the music industry" and shared their findings in this insight-filled video:
During the project, the researchers uncovered "The TikTok-to-Spotify Pipeline", perhaps the most impactful phenomenon in the modern music industry.
---
1) What is the TikTok-To-Spotify Pipeline?
The 'TikTok-to-Spotify Pipeline' is the connection between a song going viral on TikTok and its impact on that artist's Spotify streaming success.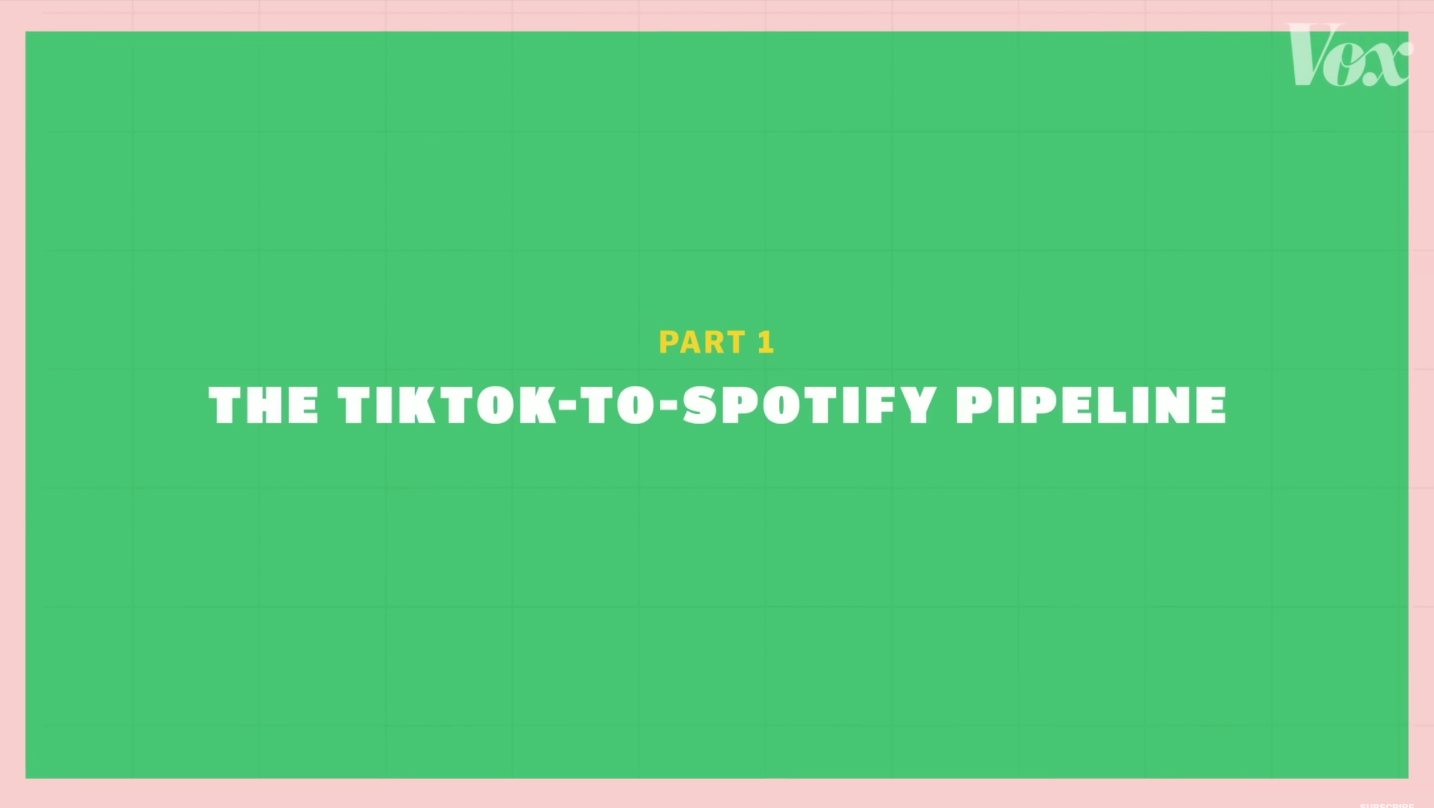 According to Vox's analysis, it is this TikTok-Spotify connection that's leading to so many new breakout stars and record deals.
Here are couple quotes from the video that explain why TikTok is so special for music promotion.
Elias Leight (Sr. Writer @Billboard):
"The two big differences are how many viral moments [TikTok] creates and then how directly that virality correlates with streaming increase...which is why the labels are so obsessed with it."
L. Dre (Viral TikTok Artist):
"TikTok is one of the main platforms where people actually leave the app to go and add music to their library."
---
2) TikTok virality leads to sustained Spotify success 🙌
When a song takes off on TikTok and goes viral, this creates a short-term craze that eventually fades.
However, this momentary TikTok virality can actually generate sustained long-term Spotify streaming behavior.
For example, take a look at the chart below showing JVKE's peak TikTok virality.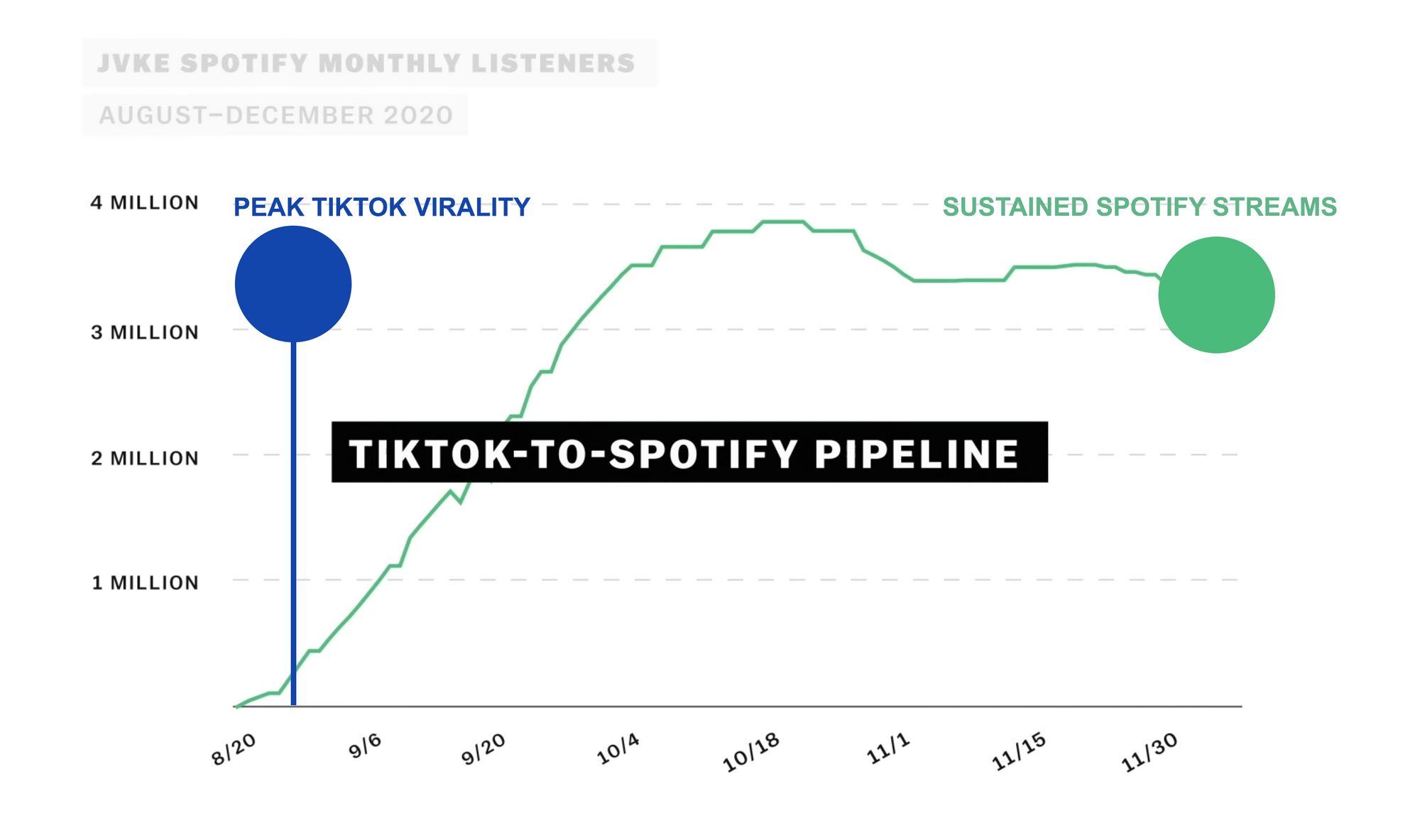 You'll notice that the moment of peak virality aligns with the start of his rapid growth on Spotify, which carried on for months after the TikTok buzz had cooled down.
For JVKE, TikTok was his primary music marketing and promo platform. The results speak for themselves.
TikTok launched a whole new lifecycle for JVKE's song on Spotify.
---
3) TikTok success leads to getting on Spotify playlists 🚀
Put simply, going viral on TikTok leads to a surge of listeners, which leads to getting on Spotify playlists and generates cycles of triggering the Spotify algorithm.
It creates a concentrated drove of streams on Spotify that begin to activate the platform. Algorithmic, user-generated, and editorial playlist placements follow.
The chart below from Vox shows how after "Upside Down" by Jake went viral on TikTok it began getting added to Spotify editorial playlists at a rapid rate.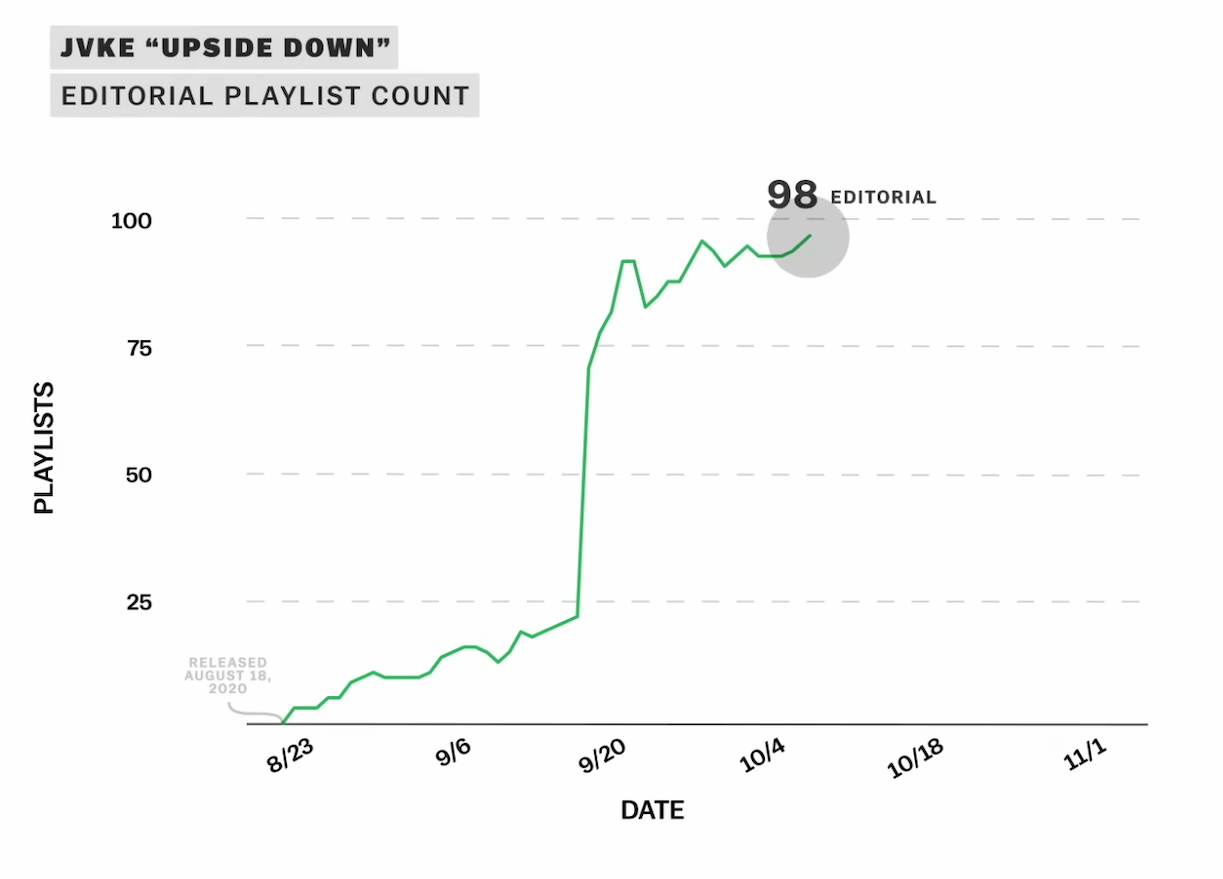 The effect becomes a self-sustaining streaming ecosystem within Spotify that continues to support & promote the song.
---

4) TikTok virality leads to record deals & leverage 💸
In Vox's report they found that about 46% of the 125 emerging artists they tracked signed major label deals after going viral on TikTok...and the rests of the artists likely turned their offers down to stay independent (source). So what's happening here?

Elias Leight (Sr. Writer @Billboard):
In a way, TikTok is great for the labels. They basically sit on top of it, watch everything come up and if they get it at the right time they can probably make their money back on pretty much one track.

The intensity of these bidding wars around viral songs is pretty wild.
How do the labels make their money back? This comes from all of the streaming royalties that are generated by the viral artists on Spotify, Apple Music, and Streaming platforms. They'll also make some money from TikTok royalties.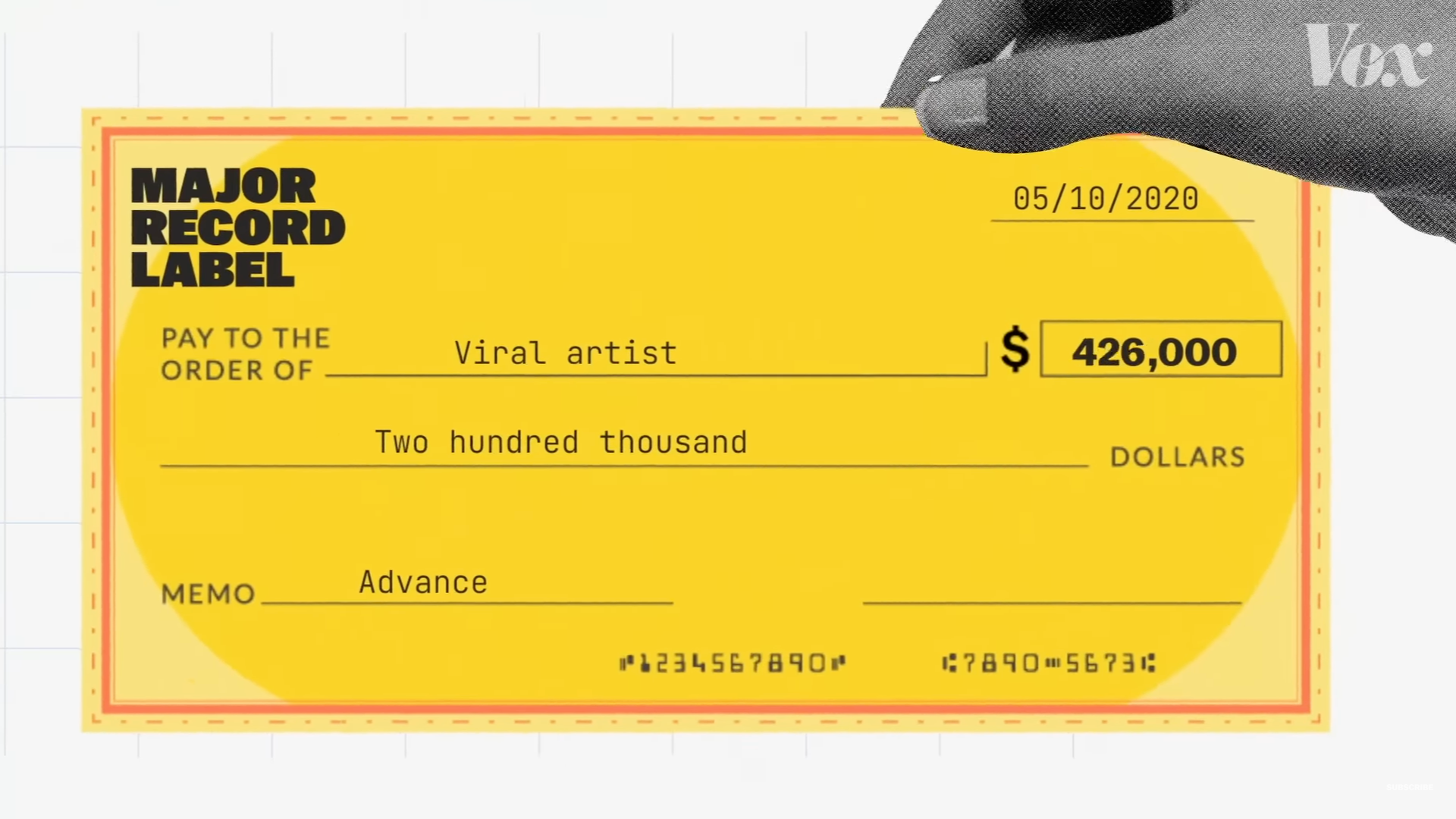 5) How to take advantage of the TikTok-To-Spotify Pipeline 🤫
The key is to get creators on TikTok to use your music in their videos. You can try to do this organically by starting your own trend or asking your followers, but the most effective way is to submit your music to influencers and creators with big followings.
What's the easiest way to pitch your music to TikTok creators? You can reachout directly and DM them, however this can be hard to get responses and negotiate rates.
Playlist Push campaigns simplify TikTok music promotion. It takes less than 3 minutes to set up a campaign and connect with hundreds of creators.