4 New Year's Resolutions to Transform Your Music Career in 2023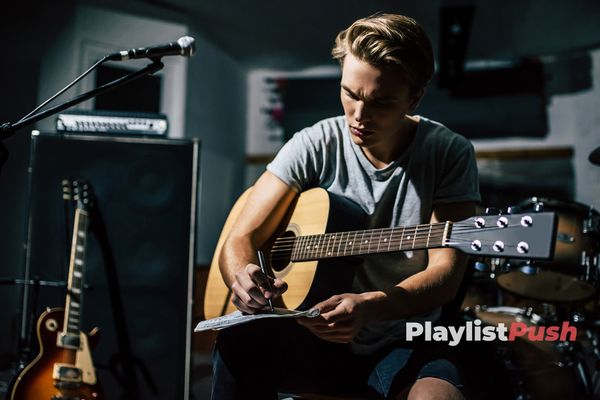 1) Go on Offense ASAP (While everyone else is slacking)

At the beginning of the year, you have the opportunity to go on offense while most artists are procrastinating in the aftermath of the holidays. While they repeat the crucial mistake of waiting to take action, you can be off and running - getting a big head start.
We see it every year, savvy artists & musicians enter January with a release schedule, budget, and promotion plan dialed. Meanwhile, their competition spends January and February moving at a snail's pace.
At Playlist Push, the artists that launch campaigns in January often see a major surge in traction as there's simply less competition, while listeners are starving for new music to start their year.
If you feel a bit unprepared, it's all good, just get moving now. And if you won't have new music for a while, remember the benefits of promoting a previous release.
---
2) Plan out Your Year and Set Your Goals

Split the year up into quarters. Q1-Q4. Set your quarterly goals, keep them realistic but challenging, and push yourself to stretch this year.
Answer big guiding questions (examples below):

Where do I want my music career to be by end of 2023?
Have a full-time manager and booking agent
Increase my streaming income by 3x
Launch a new merch line
Release 15 new songs
How can I be on offense all-year long?
Release new music every month
Execute a marketing plan for each release
Prioritize time and headspace for writing/recording
Leverage tools & software to automate and streamline
Leverage my team, delegate (or build a team)
In addition to creating an outline of your year with a recording schedule and release schedule, now is the time to set timelines for career goals like getting a manager and booking agent.
The key is to chunk everything down into smaller pieces and timelines that are actionable.
Goal and Action Plan Example
Goal: Sign with an experienced Artist Manager or Management Team by end of March 2023.
Action Plan:
January:
Research potential managers/companies and compile a list of candidates
Ask other artists and industry connects for recommendations, contacts, and introductions
Prepare 1-sheet and email outreach template with accomplishments, stats, and links
February:
Execute outreach - full-court press (emails, calls, text, dm's)
Schedule as many relevant phone calls and in-person meetings as possible
Determine top candidates
March:
Do deep dive evaluation of top candidates
Engage in 2nd and 3rd round talks to fully vet top candidates
Determine details of the agreement, legal review of the agreement
Launch a full-time or trial agreement
---
3) Streamline Your Social Media

Social media can easily consume too much of your time and energy as an artist and take you away from your craft. It's far too easy to let it become a black hole that ends up hurting your career.
But let's be real, you need it, and when used well - and efficiently it can have a huge impact.
The key is to make your life easy and get days or weeks ahead of your posts. This is how you avoid social media stress and burnout.
You want to avoid wasting a ton of time thinking about social posts on the fly and using your mental bandwidth on coming up with something new each time.
Tip #1: Determine your repeatable formats and build a schedule:
Share song snippets on IG posts/stories, TikTok in the weeks leading up to a release
Make videos of you in the studio - share the process
Build a collection of high-quality photos of you or your band by working with a photographer, then create a social media release schedule of posts with quotes from your lyrics
Share posts that your fans tag you in on IG stories
Share acoustic versions of your songs or covers

Tip #2: Prioritize what works and feels authentic:
In a perfect world, you'd be crushing it on every social platform, but without a team in place to manage this, it's going to be hard to pull off without burning out.
If you're managing your own social media, focus on the channels where you get the most engagement and where feel like the medium matches your strengths. Doing what feels good, organic, and authentic is going to yield the highest return.
There's a lot of pressure for artists to be active on TikTok, and for good reason, but if you've tried it or decided it's really not for you, then skip it. Instead, promote your music on TikTok through other creators.
---
4) Invest in Real Music Promotion
You can follow all of the steps above, but you'll be missing out on the key ingredient to make your 2023 plan take off without a promotion plan.
You gotta build the fire with a strong foundation (steps 1-3) but then set it ablaze by pouring the gasoline on (marketing & promotion).
What are the best music promotion strategies in 2023?
Without question, the answer is still Spotify Playlist Promotion and TikTok Music Promotion. This continues to be where the most successful artists, managers, and labels are focused.
Getting your music on high-quality relevant playlists remains the top strategy for building your streaming presence.
Meanwhile, TikTok's impact is growing stronger, continuing to drive label deals for independent artists.
What makes Playlist Push Different?
We are the most experienced company in playlist promotion - working with over 20,000 artists since 2017.
In an industry where authenticity and trust are critical we place the highest priority on working only with high-quality, organic playlists & creators with real listeners & followers.
Our tech-forward approach allows you to run highly targeted campaigns at scale, driving long-term results.
Looking to Promote your Music?
Use our TikTok Music Promotion and Spotify Playlists Promotion service.