How did Peso Pluma grow to 50 million monthly listeners?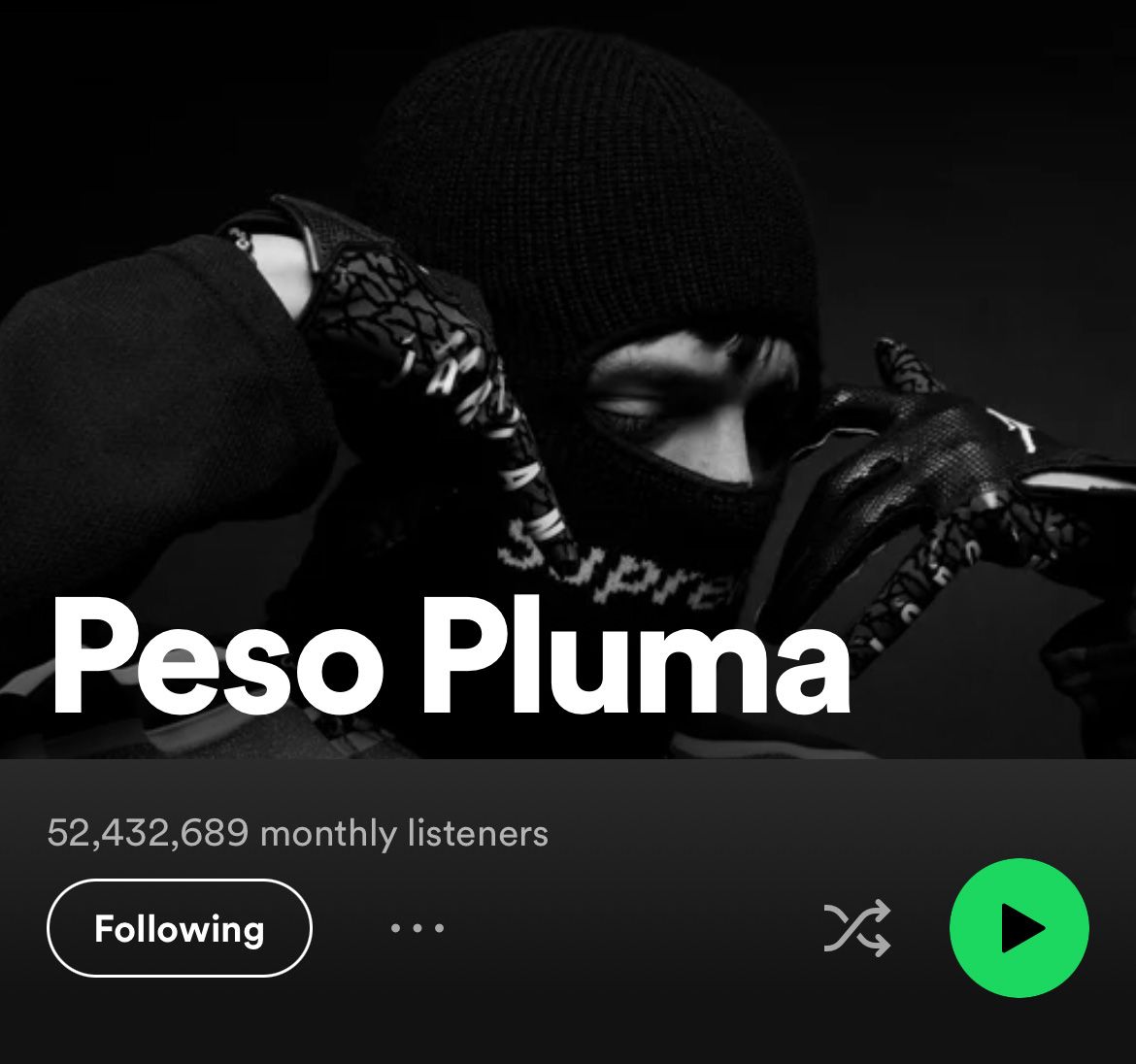 In the ever-changing world of music, few artists possess the ability to capture global audiences and shape the direction of a genre.
One artist making waves in this year's music scene is 24-year-old Peso Pluma. With his blend of traditional and contemporary genres, he is a trailblazer in the Latin music revolution.
---
Peso Pluma is one of the biggest artists in the world
If you're not aware of Peso Pluma, have a look at the stats below. He's amassed millions of followers on every major platform with an explosive growth trajectory.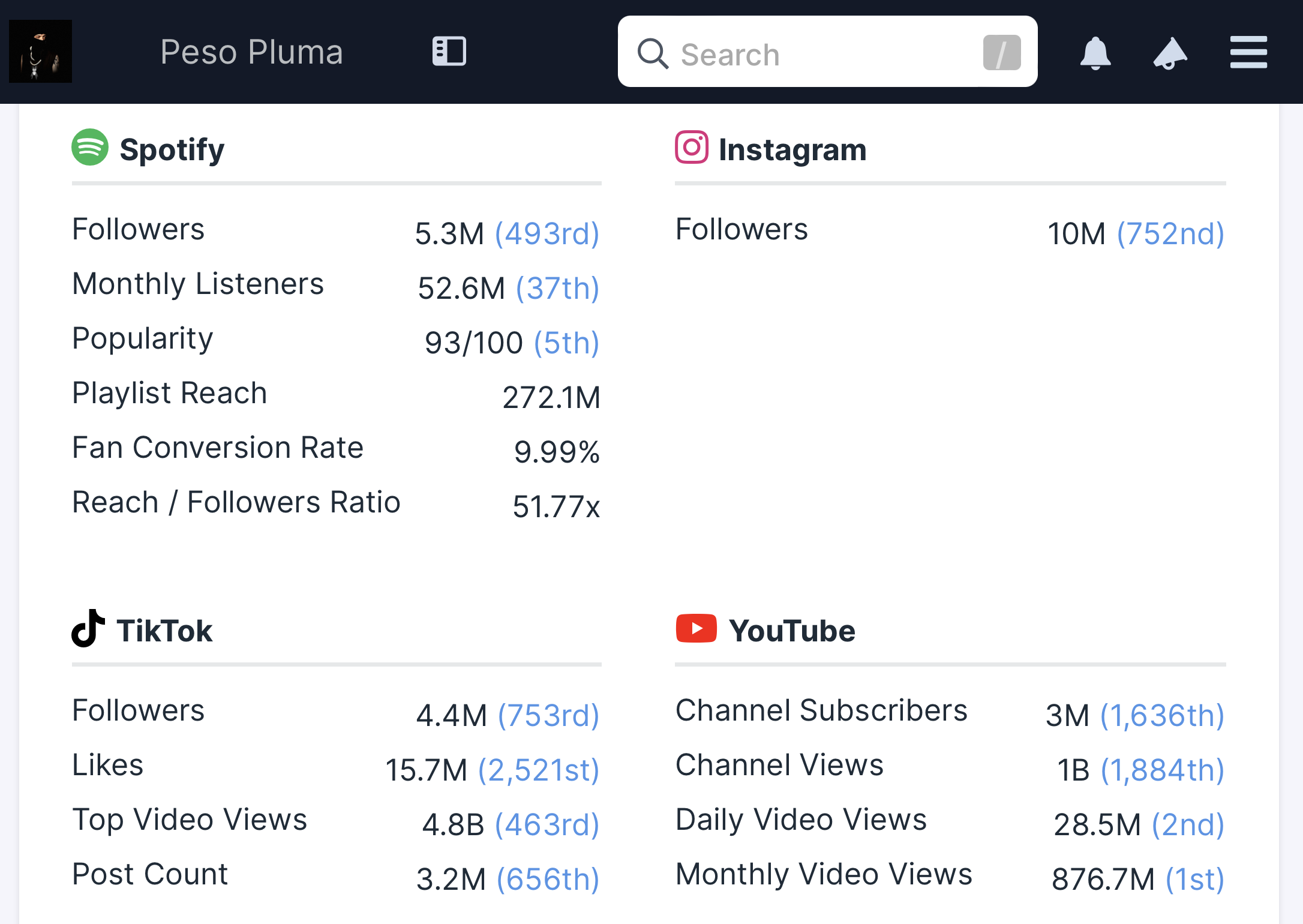 ---
His Mexican and American roots led to a unique sound

Here's the quick Peso Pluma bio. His real name is Hassan Emilio Kabande Laija. Born in Jalisco, Mexico, Laija's passion for music began in his teen years by learning how to play the guitar. Although his music career did not take off until recently, he was always writing and trying to produce, never really imagining himself as a singer.
Attending high school in the States allowed Laija to blend his Mexican roots with American ones, influencing his music and relating to his many Mexican-American fans.
He is now recognized as Peso Pluma (featherweight) but the name was actually in reference to the original group's members, a couple of "lanky" guys he started making music with.

---
His blend of genres connects with the youth and the masses
Why is Peso Pluma so popular? His rise has come about with the resurgence of regional Mexican music which encompasses genres such as norteño, banda, and corridors.
While regional music has long been a part of Latin American culture, Peso Pluma takes a modern approach to corridos: a traditional Mexican storytelling ballad. Typically this style features instruments like trumpets, trombones, 12-string guitars, horns, and his very distinct raspy voice.
By incorporating trap, hip-hop, and other contemporary genres he has attracted a younger generation and a broader audience than others have before. Sometimes the best marketing is just being genuine.

---
Peso is benefiting from the current Latin music explosion
Beyond Peso Pluma's individual success, the growing popularity of Latin music as a whole cannot be overlooked.
In recent years, Latin music has captivated listeners worldwide. Artists like Peso Pluma, Bad Bunny, J Balvin, and Karol G have brought Latin rhythms and melodies to the forefront of global music charts by shattering stereotypes and transcending cultural boundaries.
This year's Coachella festival showcased the rise of Latin music featuring artists of all genres. Peso Pluma was brought out by Becky G for their single "Chanel" and Bad Bunny brought out Grupo Frontera for their collaboration on "un x100to" (a norteño song that also topped the charts). Other regional artists performing included DannyLux and Conexion Diva.

---
Getting on Spotify playlists has been key to his success

As you can see below he currently has songs on over 138,000 Spotify playlists! This includes 119 editorial playlists. This has been at the core of his streaming domination.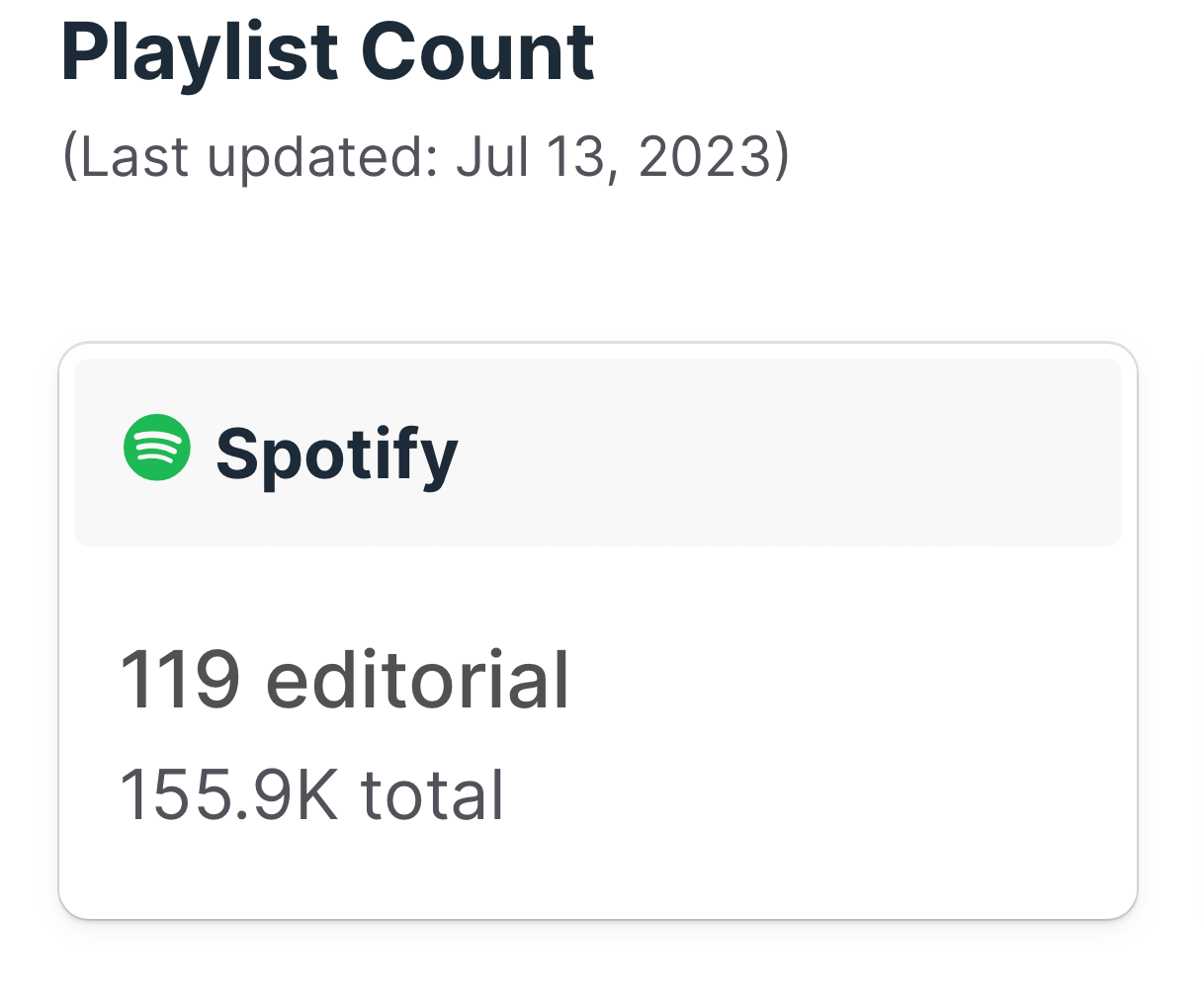 The rise of streaming platforms and social media has played a significant role in taking Latin music to new heights. Peso Pluma, like many other Latin artists, has utilized these platforms to connect with his fans and promote his music. Streaming services like Spotify, where he is currently #35 in the world, and YouTube have allowed artists to gain global exposure and attract international audiences.  
He started off the year with around 10 million monthly listeners on Spotify but as of June, he is already over 50 million. After being featured on Eslabon Armado's "Ella Baila Sola" in March, he made his way into the top 10 of Billboard's Hot 100 by April and has maintained a spot since.
His other collaborations with Natanael Cano, Yng Lucas, and Bzrp also made their way to the top of the charts.

---
Viral TikTok success has also fueled his rapid growth

Peso Pluma's music continues to go viral on TikTok, racking up billions of views.
His song "Ella Baila Sola" has over 4.4 Million TikTok Videos made.
"Bye" has over 440K videos made.
---
Peso's latest move: launching his own label
With his newfound success, Laija announced the launch of his own label, Double P Records, signing three artists already. He hopes to find new talent and help them showcase their authentic selves.
He'll continue to release music, already teasing an album to come by the end of summer. It is hard to say where regional music as a whole will go from here. Still, Peso Pluma's meteoric rise and the growing popularity of Latin music signify an exciting era for these genres.
As Latin music continues to captivate audiences globally, artists like Peso Pluma will play a vital role in shaping its future, evolving the genre, and captivating listeners with their talent.
---
Looking to Promote Your Music?
Try our  Spotify Playlist Pitching and TikTok Music Promotion services.