Music Distributors You Should Consider For Your Next Release 2023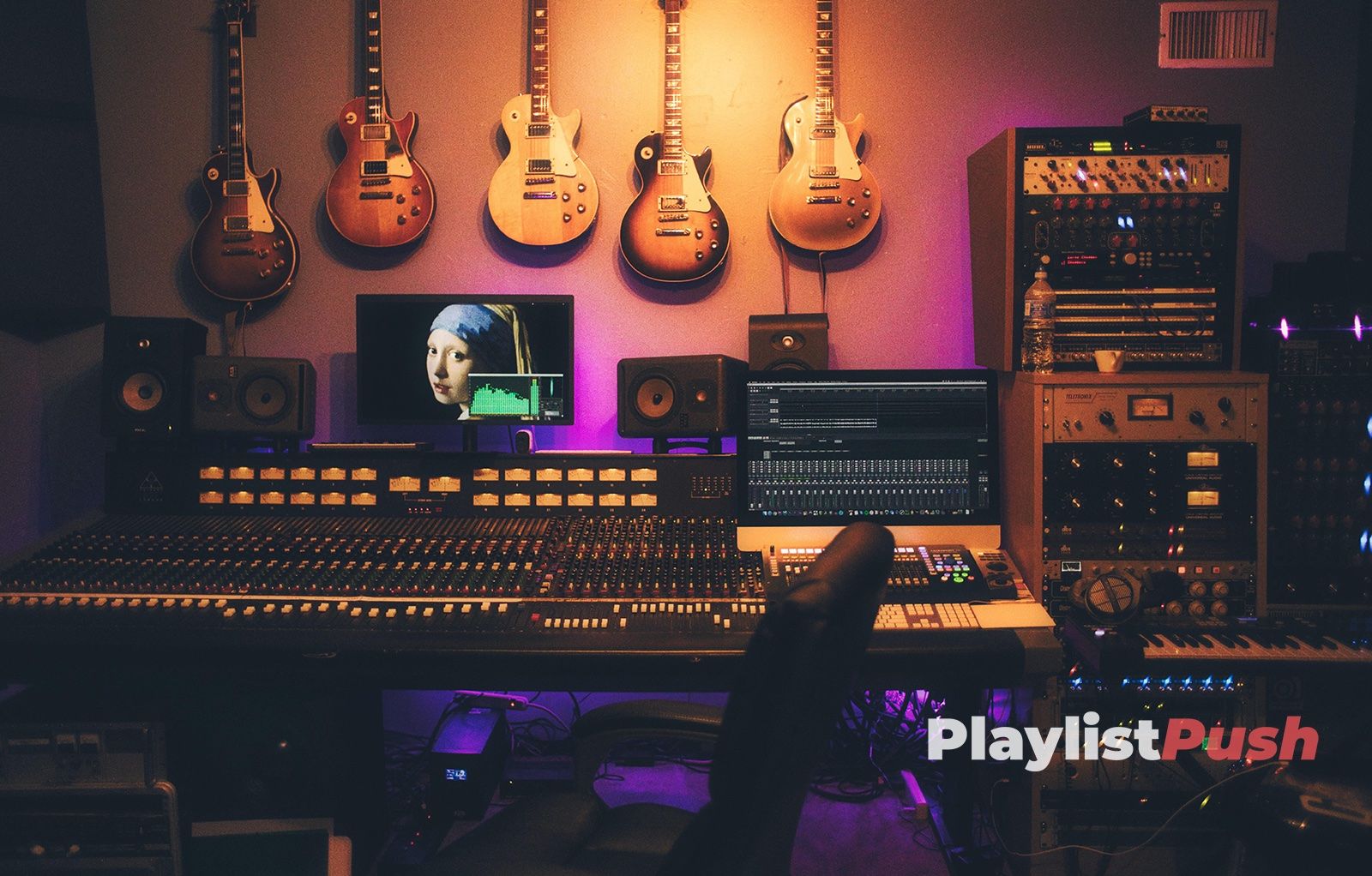 So you're ready to show the world your first song or you're looking for a distributor upgrade? Finding the perfect music distributor will be your next step.

Music distributors make music available to the public. Through a system of contracts and payments, distributors grant record stores, online download platforms, and streaming services the rights to purchase and resell an artist's music.

Given the number of distribution companies there are is 2022, it can feel overwhelming and dreary. Not to worry though, we've done the heavy lifting for you and narrowed down the top companies you should consider for your next release.
Please keep in mind that this is an unbiased article that doesn't contain any affiliate links and was influenced by data we received from the artists we work with.
Music distributors we'll be discussing in no particular order:
2.  Amuse
3.  DistroKid
4.  CD Baby
5.  EmuBands
6.  Record Union
7.  LANDR

---

Based: Tampa, Florida
Founded: 2006

Number of streaming services & stores: 200+

Cost: [Need to be approved to use] No fee to use – all costs are included in the 15% royalty commission (standard plan with no label services)

Plan with Label services – a custom percentage above 15% will be negotiated
You Keep 100% of Royalties: No

Artist keeps 85% on standard plan with no label services included

Symphonic also keeps 30% for Content ID revenue
Plans with label services will have a negotiated rate.

Payout Splitting: Yes

Mobile App: No
Customer Support: Symphonic has arguably one of the best customer support networks available.

Given that you have to be approved to join Symphonic, you're always going to be treated like a rockstar.

For general requests, you can explore their extensive knowledge base and for more hands on requests, you can submit a request directly to them via their help desk.

Their team will get back to you within 24-48 hours and will take diligent action on your request.

Hours of operation are Monday through Friday 9 AM to 6 PM Eastern Time.

Best for: Intermediates or Professionals (If accepted)
Recent Review: "It is one of the most stable music distribution companies, they are very fast to deliver, sometimes even in 4 days the content is delivered to other distributors, you can hardly find it, marketing is still a strong point for this distributor and at the same time The biggest advantage is that it is still an independent company."

Artists Who've Used Symphonic: Ozuna, Chris Lake, deadmau5, Stick Figure, Daddy Yankee, Clozee, Yung Joc, Waka Flocka Flame, Laura Marano, Emily Vaughn & Black Thought
Notable Features: Label Services, Music Video Distribution, Music Marketing Services, Catalog Optimization, UGC Management, Rights Management, Funding, Physical Distribution, Sync Licensing, Production and many more features.
---

Based: Sweden (Stockholm)

Founded: 2017

Number of streaming services & stores: 150+

Cost: 3 Plans between $0-$69 Annually
You Keep 100% of Royalties: Yes

Payout Splitting: Yes

Mobile App: Yes
Customer Support: At this time,  you can only contact Amuse via a submission form for which you'll receive an automated response.

If that email doesn't answer your question, you'll need to respond for the case to be forwarded to a support agent.

For faster support, Amuse has their Pro and Boost plans. If you're a Pro user, you'll get guaranteed Support within 24 hours (and 72 hours as a Boost user).

For general knowledge, Amuse has an extensive help center which can answer any of your questions.

Best For: Beginners, Intermediates, or Professionals
Recent Review: "The customer support at amuse are absolutely outstanding! Whenever there is a problem with one of my releases, or if I just have a question, someone from their support team will always be there to help, respond, answer, and/or give advice. The reason why I subscribe to "Amuse Pro" is because they make you feel like a pro. They answer all your questions and make you feel good about your releases and the fact that the support department will never make you feel bad for a question and always show care for what you want, really means a lot. I (more than) highly recommend using amuse and especially amuse pro. It's worth it. Amuse has definitely enhanced the music industry."

Artists Who've Used Amuse: Lil Nas X, Mapei, Mabes, Ryan Celsius Sounds
Notable Features: Amuse Pro offers upgraded features like fast lane support and delivery, release scheduling, multiple artist profiles, team accounts, custom label, YouTube Content ID requests and delivery to Instagram, Facebook, Soundtrack by Twitch and TikTok and more functionality will be added going forward.

In addition, Amuse has label services which give you the opportunity to be signed to label deal with a 50/50 split.
---

Based: New York, NY

Founded: 2013

Number of streaming services & stores: 150+

Cost: $19.99 Annually w/ Unlimited Releases
You Keep 100% of Royalties: Yes

Payout Splitting: Yes

Mobile App: No
Customer Support: Overall DistroKids customer support could be improved.

DistroKid is diligent with small service requests however, if you have more complex issues you're likely to be given false promises on potential resolutions and will likely need to follow up and hold them accountable.

In my opinion this is the result of DistroKid being one of the largest music distributors available. They don't have the time/capabilities to offer any white glove service like some of the other distributors we're covering.

If DistroKid could improve this, they could definitely become an unstoppable force.

Best For: Beginners, Intermediates & Some Professionals
Recent Review: "Everything was very straightforward and easy. I really appreciate the updates throughout the process so I knew what was happening with my releases at any given time. There is so much information available from the company themselves that it can be overwhelming at first, but fantastic once you start digging through it all."
Artists Who've Used DistroKid: Ludacris, Megan Davies, Arizona Zervas, Rob Scallon, 21 Savage, Propagandhi & Anthony Vincent
Notable Features: Shazam & iPhone Siri: $0.99 per song/year, Store Maximizer: $7.95 per album/year, YouTube Money: $4.95 per single/year, $14.95 per album/year, + 20% of YouTube ad revenue, Leave a Legacy: $29.00 per single, $49.00 per album of 2+ tracks (nonrecurring fee)
---

Based: Portland, Oregon

Founded: 1998

Number of streaming services & stores: 150+

Cost: $9.95 - $29.95 Per Single or $29.00 - $69.00 Per Album
You Keep 100% of Royalties: No

CD Baby keeps  9% of your digital distribution revenue and you get the remaining 91%.

Payout Splitting: No

Mobile App: No
Customer Support: CD Baby has a help center and 24 hour chat-bot support which can help answer just about any question you have.

However, if you still need further support you can either submit a request directly to CD Baby or if you would prefer to speak with a CD Baby agent you may schedule a call-back by selecting Contact CD Baby from their "Submit a Request" form and indicating you'd like a callback.

Call-backs are available Monday-Friday, between 9:30 am and 4:00 pm PST. Calls are returned as quickly as possible but within no later than two business days.

Best For: Beginners, Intermediates & Professionals
Recent Review: "CD Baby is very ideal for people who are barely starting to release their original songs they made. My experience was great! I had live representatives call me back after I had requested assistance with releasing my original tracks. For those that are barely releasing a song or album. Please be sure some instruments are not sampled by small junky samples. Music is for those who are determined to be heard and influenced by todays world. So please make history and get CD Baby for a one time charge and you'll be set for life."
Artists Who've Used CD Baby: Aloe Blacc, Two Steps from Hell, Paul Cardall, Ingrid Michaelson, Bon Iver, The National, Jack Johnson, Sara Bareilles, The Antlers & Macklemore
Notable Features: Social Video Monetization, Music Licensing, Publishing Admin (w/ Pro Plan)
---

Based: Glasgow, United Kingdom

Founded: 2005

Number of streaming services & stores: 50

Cost: $42.50 Single, $59.95 EP or $84.95 Album
You Keep 100% of Royalties: Yes

Payout Splitting: No

Mobile App: No
Customer Support: EmuBands customer support structure is extremely straight forward.

If you choose EmuBands as your distributor, you will be assigned a named account manager, who will be in touch by e-mail shortly after you create your account.

You can find their contact details within the 'Support' section of your EmuBands account.

For general questions, you can review their knowledge base. However, enquiries about any of their services, or the website should be addressed in the first instance to info@emubands.com.

Best For: Beginners and Intermediates
Recent Review: "With EmuBands I really founded what I was looking for in music distributors. What an amazing service they have. Always reply you in time and assist you with kindness. And all the best is they are transparent and you keep 100% of your royalties. I'm really happy with them🙏"
Artists Who've Used EmuBands: Bombay Bicycle Club, Dermot Kennedy, Dope Lemon, Yxng Bane, Gengahr, Kool & The Gang, Pryda, Angus & Julia Stone, Glasvegas & Twin Atlantic
Notable Features: Shazam Registration, Release & Pre-order Dates, Chart Registration, Spotify Access
---

Based: Sweden (Stockholm)

Founded: 2008

Number of streaming services & stores: 17

Cost: You can pay per release which starts at $7.00 and they have additional plans at $49.99 annually w/ unlimited releases
You Keep 100% of Royalties: Yes

Payout Splitting: No

Best For: Beginners and Intermediates

Mobile App: No
Customer Support: You can reach Record Unions artist support team in 3 different ways:
Open a messenger conversation by clicking the speech bubble icon in the bottom right corner of their website.
2. Click on "Contact us" at the bottom of our website. This opens the messenger window. (Note that incognito mode/private session and similar browser settings can block the messenger window.)
3. Email to support@recordunion.com
They're online weekdays during business hours in Stockholm, Sweden, and will answer your message as soon as they can. If you're not online when they get to your message, you will be notified via email.
Recent Review: "Record Union is great! For starters, they communicated with me via chat, which seems like a small threshold of good customer service, but more than can be said for the three other distributors I reached out to, none of whom offered ANY method of communication whatsoever. Secondly, they spent extra time shepherding my album through the process; my had unique requirements and challenges, which they helped overcome. Thank you!"
Artists Who've Used Record Union: I Belong to the Zoo, Wasuremono, Kelsey Coockson & Bryony Parker
Notable Features: Spotify Trends, Sales Reports, Sales Performance, A&R Program
---
Based: Montreal, Quebec

Founded: 2014

Number of streaming services & stores: 150+

Cost: $0-$89 Annually

You Keep 100% of Royalties: Yes & No

Depending on your subscription level, LANDR will take 0% - 15% of royalties

Payout Splitting: No

Mobile App: No
Customer Support: LANDR handles all of their support requests by email. This is the absolute best way to reach them.
You can get in touch with them anytime by submitting a LANDR support request.
Brief them on the issue you're having, and always include your LANDR login email.
LANDRs team really values your insight and user experience, so if you want to share your feedback and suggestions with them, they're all ears.

Best For: Beginners, Intermediates & Some Professionals
Recent Review: "Great experience using Landr for nearly 3 years.They have a great support team and music mastering service which in my opinion is the best in the industry.
Looking forward to another year of music distribution with them that's helping to build my music career."
Artists Who've Used LANDR: Machinedrum, Adrian Belew, Joel Shearer, Suzi Analogue, TT the Artist, & Watasino
Notable Features: LANDR Mastering, LANDR Promotion, LANDR Samples, LANDR Collaboration
---
The points we covered should be more than enough to help you make the right decision.

As a reminder, the key points you want to be focusing on while searching for a music distributor is as follows:
1. Royalties

2. Unique Distributor Features

3. Number of Streaming Services & Stores

4. Cost

5. Customer Support
If you keep these key points in mind, you'll surely find your forever distributor.

Once you get your music live on Spotify, head over to playlistpush.com and schedule your first Spotify Playlist Promotion campaign.