Best DAW 2023: Top Digital Audio Workstation Software for Music Production and Recording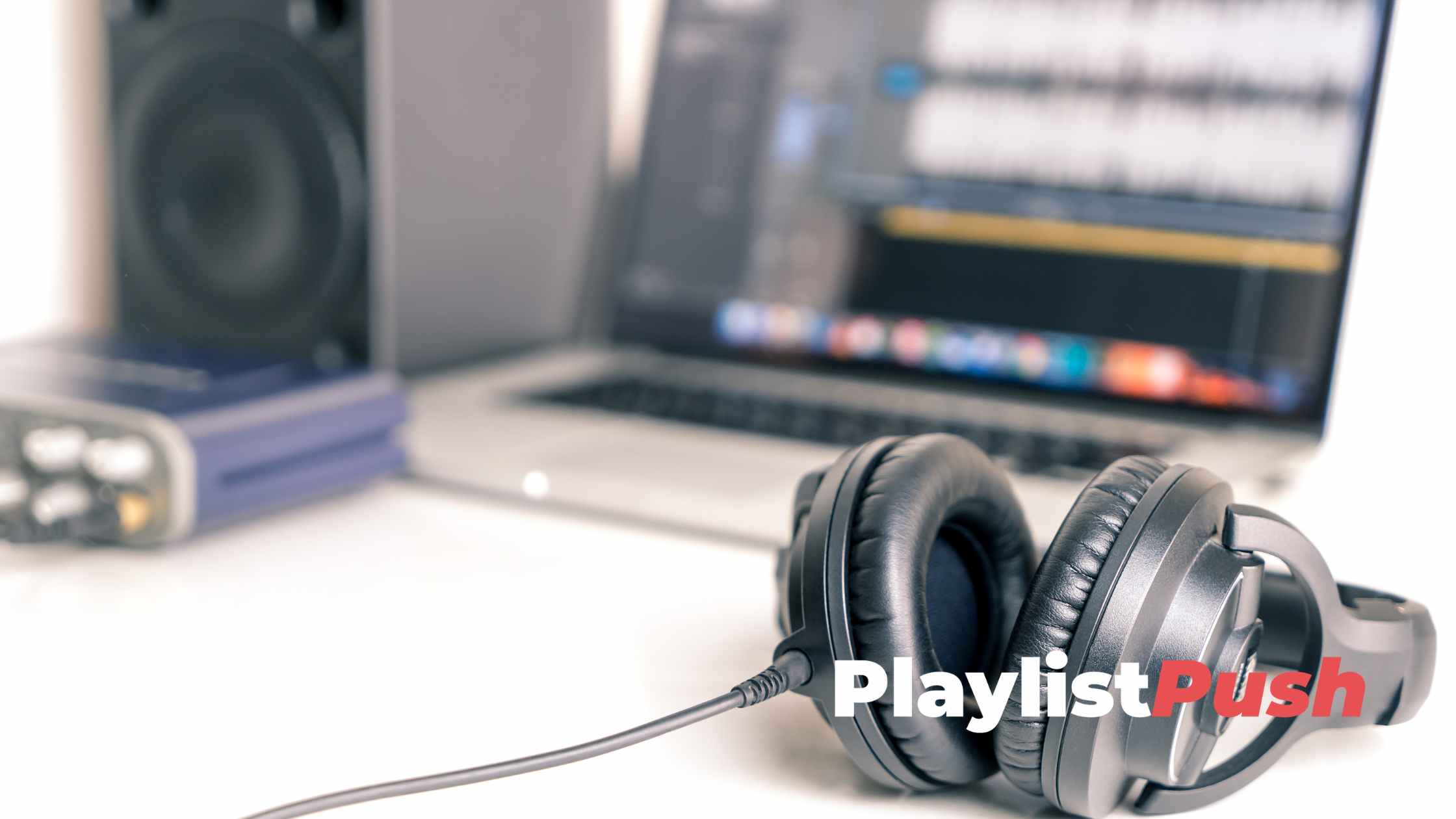 With so many DAWs available in the market, choosing the right one that fits your workflow and music production needs can be an intimidating task.

In this blog post, we'll dive into the most popular DAWs and help you decide which one is right for your musical journey.
What is a DAW in music?

DAW stands for "Digital Audio Workstation" and is a virtual studio for musicians and sound engineers. It's a piece of software that's absolutely vital in the world of music production.
Imagine being able to record your music, whether you're playing an instrument or singing, and then having the ability to edit it like a pro. You can cut, copy, paste, and tweak your recordings until they sound right. Additionally, you can mix all your tracks, adjusting the volume, panning, and adding cool effects to make your music pop.
DAWs often come with many virtual instruments and audio effects built right in. They even let you work with MIDI, a digital language for musical instruments, so you can create electronic music, too.
How To Choose The Best DAW For Music Production

Selecting a DAW is an essential decision in the world of music production. Your choice relies on several factors, including your needs, preferences, and budget.

Below are some factors you should consider before choosing the best recording software.
Define Goals: Consider your role in music production; are you a beginner, a songwriter, an accomplished producer, or a sound designer? The best DAW software will vary considerably depending on your objectives.

Compatibility: Ensure that the DAW you're eyeing aligns with your computer's operating system and hardware specifications. The best DAW for windows may not be the best for Mac users. This step is essential to avoid potential technical complications down the road.

Budget: DAWs are available at various prices. From the best free DAW software to high-end software, determining the amount you're willing to invest is crucial. Remember that many paid DAWs offer free trial versions, which can help you make a well-informed decision without committing upfront.

Features and Tools: Consider the features and tools provided by top DAWs. These can encompass MIDI capabilities, virtual instruments, audio recording, mixing and mastering tools, and compatibility with third-party plugins.

Versatility: Think about the kind of music you intend to create. Some producing software is tailored for electronic music, while others excel in recording live instruments. Some are feature-rich for advanced audio editing, while others maintain simplicity for ease of use.

Long Term Goals: As your skills evolve and your needs change, it's beneficial to choose a DAW that can grow with you and accommodate your expanding requirements.

Top 6 DAW Software For Music Production

Now that you've considered all factors, here's a list of the best digital audio workstations currently available.
Ableton Live is a well-known DAW that excels in live music performance and electronic music production. Its strengths lie in its intuitive session view, enabling real-time loop-based composition and seamless on-stage improvisation.

The software has an extensive library of instruments, effects, and MIDI manipulation tools, making it ideal for electronic, EDM, and experimental musicians. Its warping and time-stretching capabilities are one of a kind, simplifying the integration of audio clips.
However, Live may not be the best choice for those focused on traditional multi-track recording and complex orchestral compositions. Its mixing and mastering features are competent but lack some of the depth found in specialized software.
Ableton Live is best for DJs, electronic producers, and live performers seeking a versatile, user-friendly platform for creating dynamic music. Its straightforward interface and performance capabilities set it apart in music production.
Ableton Live Free Trial

Ableton Live Intro Cost: $99.00

Ableton Live Standard Cost: $449.00

Ableton Live Suite Cost: $749.00
---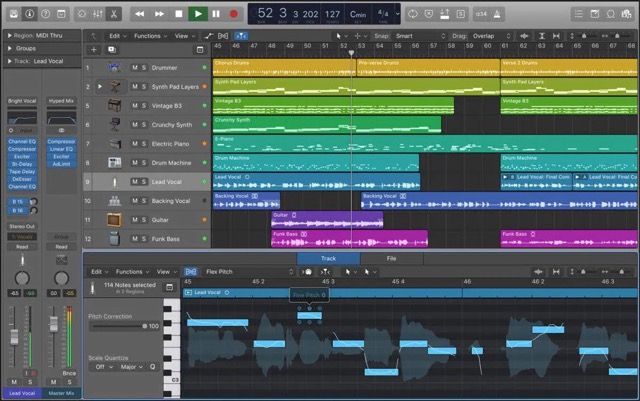 Logic Pro X is a DAW that caters to a wide range of musicians and producers alike.

It has a user-friendly interface, a rich library of virtual instruments and effects, and smooth integration with Mac hardware. Musicians of all genres can benefit from its rich MIDI capabilities and top-notch recording and mixing tools.
Logic Pro X is exclusive to Mac, limiting its accessibility. This DAW shines for musicians focused on electronic, pop, rock, and orchestral genres due to its impressive software instruments and orchestral sound libraries.

Its production capabilities, including MIDI programming and sample-based music, make it a top choice for beginners and professionals seeking a comprehensive music production environment.
Logic Pro Free Trial

Logic Pro Cost: $199.99
---
Pro Tools is a staple in the music and post-production industry. Its strength lies in its audio editing and mixing capabilities, making it a great choice for professional music producers, recording engineers, and film editors.

Pro Tools offers many plugins and features, including MIDI support and a large virtual instrument library, making it a one-stop shop for music production software.
However, Pro Tools has some drawbacks, primarily its steep learning curve, which may deter newcomers. It also requires specific hardware for optimum performance.

This software best suits artists and professionals aiming for uncompromising audio quality, intricate post-production, or music production with complex arrangements.

While it may not be the most beginner-friendly option, Pro Tools' is a industry standard DAW with advanced tools make it a top DAW for those seeking sonic excellence.
Pro Tools Free Trial

Pro Tools Cost: $299.00 or $39.99 Monthly
---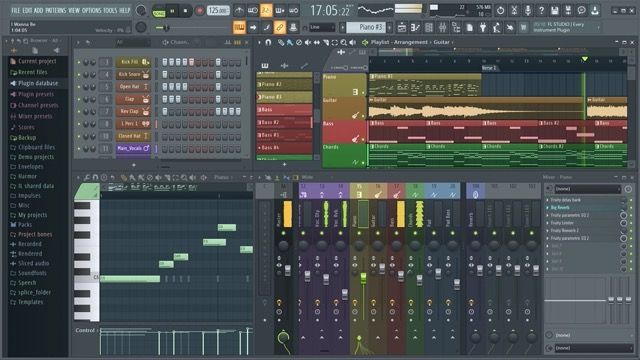 FL Studio has become a favorite among electronic music producers and beatmakers. Its strengths lie in its user-friendly interface, powerful MIDI capabilities, and large library of virtual instruments and effects.

The unique pattern-based sequencing allows for intuitive and flexible composition, while the "Piano Roll" feature enables precise control over melodies and harmonies.
FL Studio's weaknesses can include high CPU usage, which may demand up-to-date hardware for resource-intensive projects. While it's known for electronic and hip-hop music, it's versatile enough to accommodate various genres. However, it may not be the ideal choice for professional recording and mixing tasks, whereas other digital audio workstation software like Pro Tools excel.
FL Studio best suits aspiring producers and electronic musicians seeking an accessible platform to create innovative beats and music compositions. Its unique workflow and vast features make it an excellent choice for those who prioritize creativity and experimentation in their music production process.
FAQ: What's the difference between FL Studio vs Ableton?
To cut it short, FL Studio features a pattern-based sequencer with a vertical mixer view suited for studio production. It emphasizes MIDI editing and offers various virtual instruments and effects. It appeals to electronic music producers and beginners.
Ableton Live follows a session view and arrangement view paradigm designed for live performances and studio production. It provides flexible MIDI and audio editing, excels in audio manipulation, and offers unique instruments and effects. It is popular among electronic musicians, DJs, and performers in the electronic music scene.
Fl Studio Free Trial

FL Studio Fruity Edition Cost: $99.00

FL Studio Producer Edition Cost: $199.00

FL Studio Signature Bundle Cost: $299.00

FL Studio All Plugins Edition Cost: $499.00
---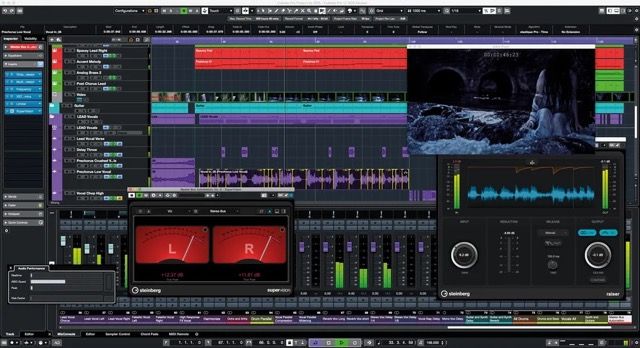 Steinberg Cubase 12 offers a powerful platform for music production and audio recording. Its strengths lie in its extensive feature set, advanced MIDI capabilities, audio editing tools, and a comprehensive range of virtual instruments and effects.

The new SpectraLayers integration enhances audio editing, while the MultiTap Delay and Frequency 2 multi-band EQ plugins expand creative options. The DAW's intuitive interface and customizable workflow accomodate novice and professional users.
However, Cubase 12s interface may seem overwhelming to beginners. It is best suited for electronic music producers, recording engineers, and composers seeking a versatile and professional-grade DAW. Its diverse feature set, MIDI capabilities, and audio quality make it an ideal choice for music creators looking to elevate their sound production.
Cubase Free Trial

Cubase Elements 12 Cost: $99.99

Cubase Artist 12 Cost: $329.99

Cubase Pro 12 Cost: $579.99
---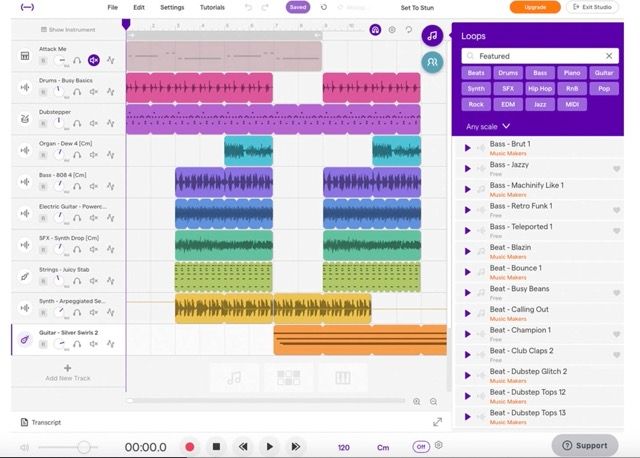 Soundtrap is a cloud-based DAW app that offers musicians and creators a versatile platform for music production, podcasting, and collaborative projects.

Soundtrap allows users to make music and podcasts directly in their web browser, making it an excellent choice for beginners and those looking for a simple yet powerful music creation tool.

With a wide range of virtual instruments, loops, and real-time collaboration features, Soundtrap fosters creative synergy among artists in different locations.
However, its simplicity may deter more advanced users seeking complex audio processing. Its online nature might be a drawback in areas with unreliable internet connections.

Soundtrap is ideal for budding musicians, podcasters, and educators looking for an easy-to-use platform to create, collaborate, and share their audio projects effortlessly, all within the virtual realm of the internet.
Soundtrap Free Trial

Soundtrap for Music Makers Premium: $95.88 Annually or $9.99 Monthly

Soundtrap for Music Makers Supreme: $143.88 Annually or $14.99 Monthly

Soundtrap for Storytellers: $143.88 Annually or $14.99 Monthly

Soundtrap Complete: $167.88 Annually or $17.99 Monthly
---
Final Thoughts

The best music making software will need to be a perfect fit for your unique needs; whether it's live performance, rich MIDI capabilities, advanced audio editing, or online collaboration.

Your chosen music making program should empower your creative process, so make your decision confidently, knowing the best software for music production is out there to bring your musical vision to life.
Looking to Promote your Music on Spotify?

Use our Spotify Playlists Pitching and TikTok Sound Promotion services.